Edmonton Paint Protection Film
Paint protection film is commonly known as clear bra, XPEL, or 3M. This is a thermoplastic urethane film applied to painted surfaces of a vehicle. In effect, the surface is protected from rock chips, bug splatter, etching, scratches, and minor abrasions.
PPF is the best protection for your vehicle – new or used! Several packages are available, from basic front end protection to advanced full panel protection. Ceramic Coating is also a great protective option – however does not provide the physical aspects that PPF explicitly offers. 
Pricing and options may vary by vehicle. Please contact us for more information or a quote to suit your specific needs. Below are the most popular options.
Pinup's Detailing uses only the finest films from XPEL and PremiumShield. Our films are ultra clear, self healing, ceramic coating infused, and carry a lifetime warranty against yellowing, hazing, and cracking with proper maintenance.
Paint Protection Film Packages
All of our protection packages include a hand wash, decontamination, and sealant once the installation is complete. Additional prep, such as polishing or rock chip repair/touch up, are subject to additional charges. The prices below are a base rate and will vary by the size, coverage, and complexity of your individual vehicle. Please contact us directly for a quote to suit your needs and vehicle.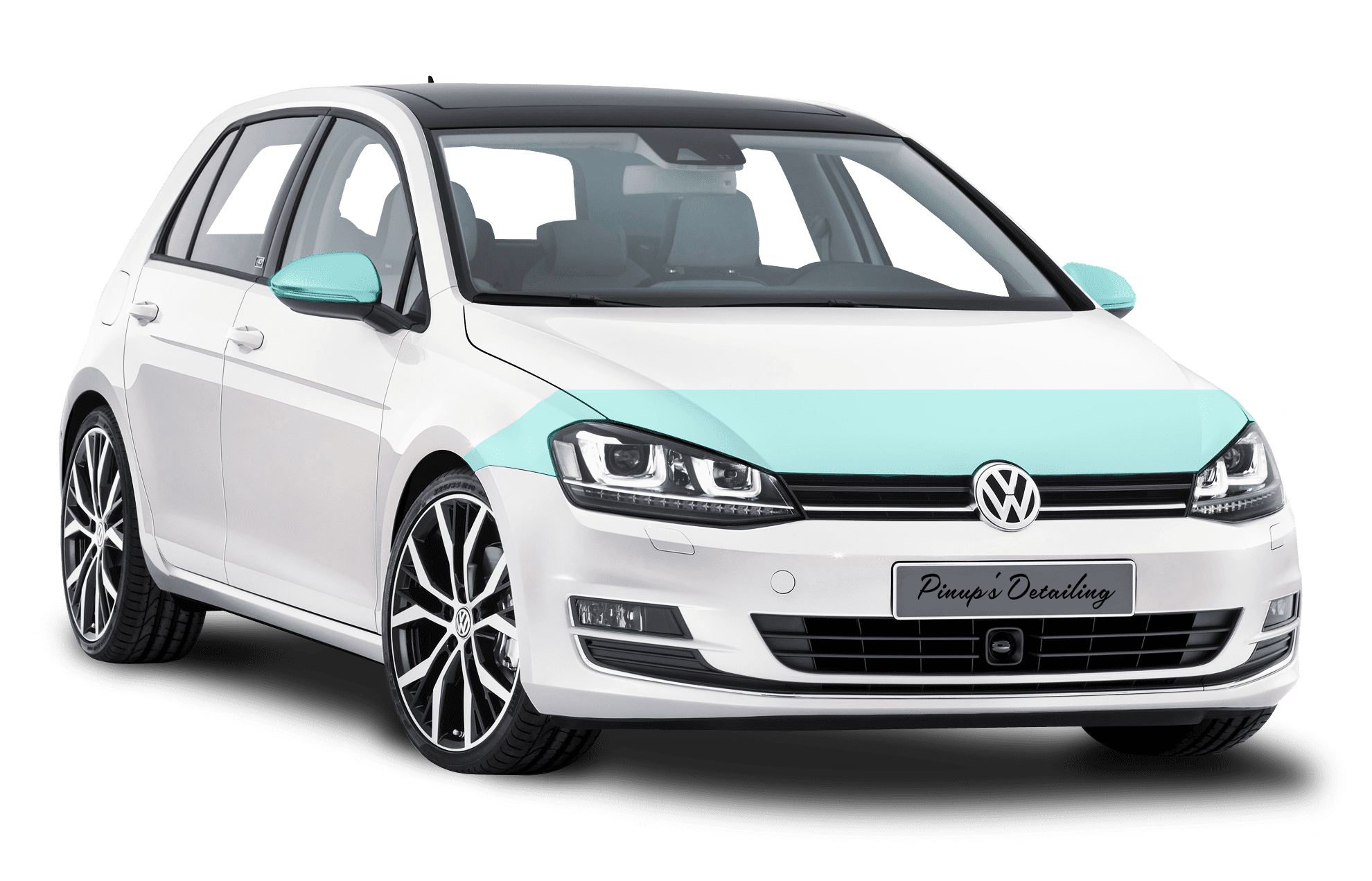 City Cruiser
18" Hood · Fenders · Mirrors
Starting at $199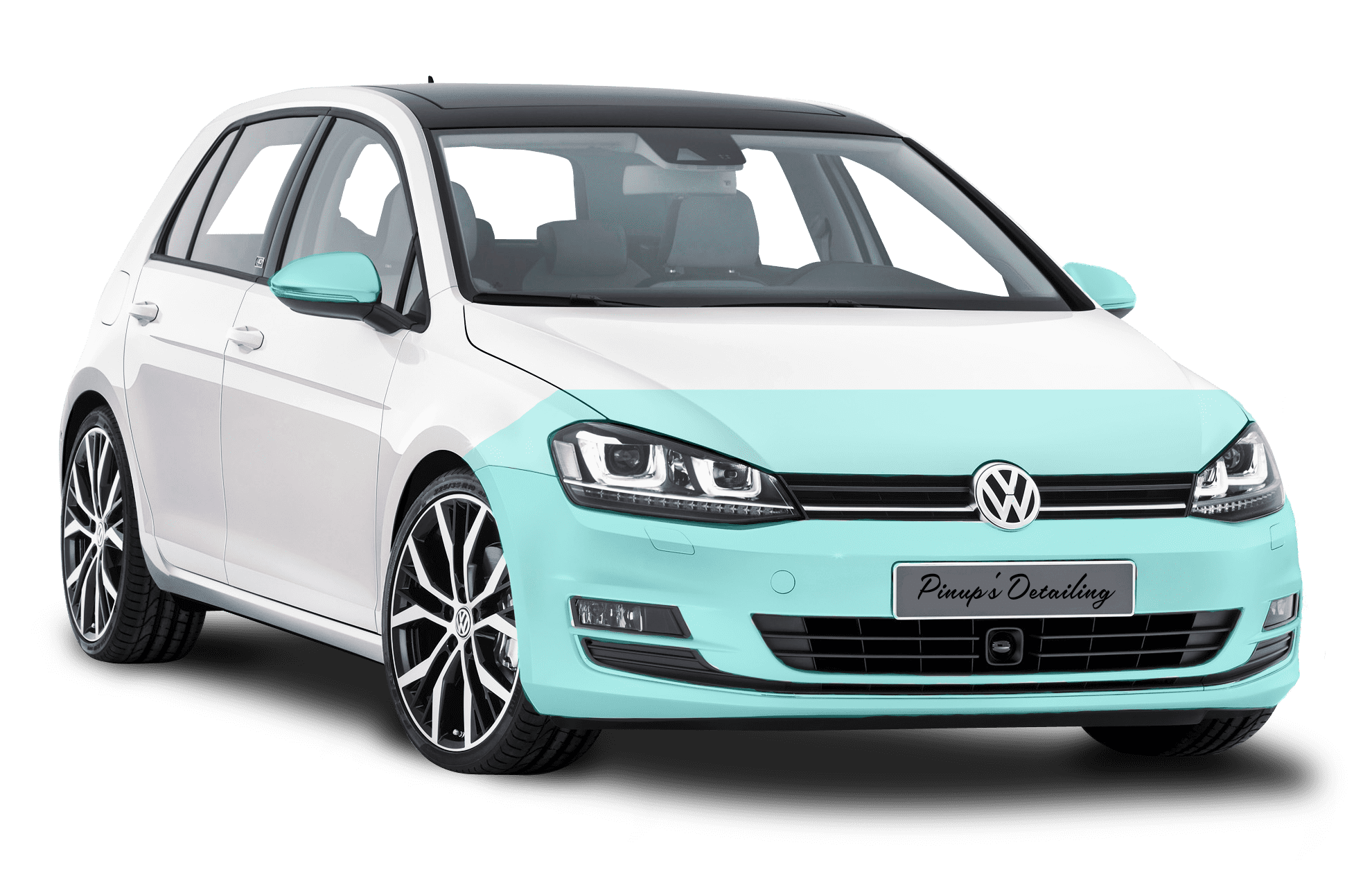 Commuter Kit
24" Hood · Fenders · Bumper · Mirrors
Starting at $499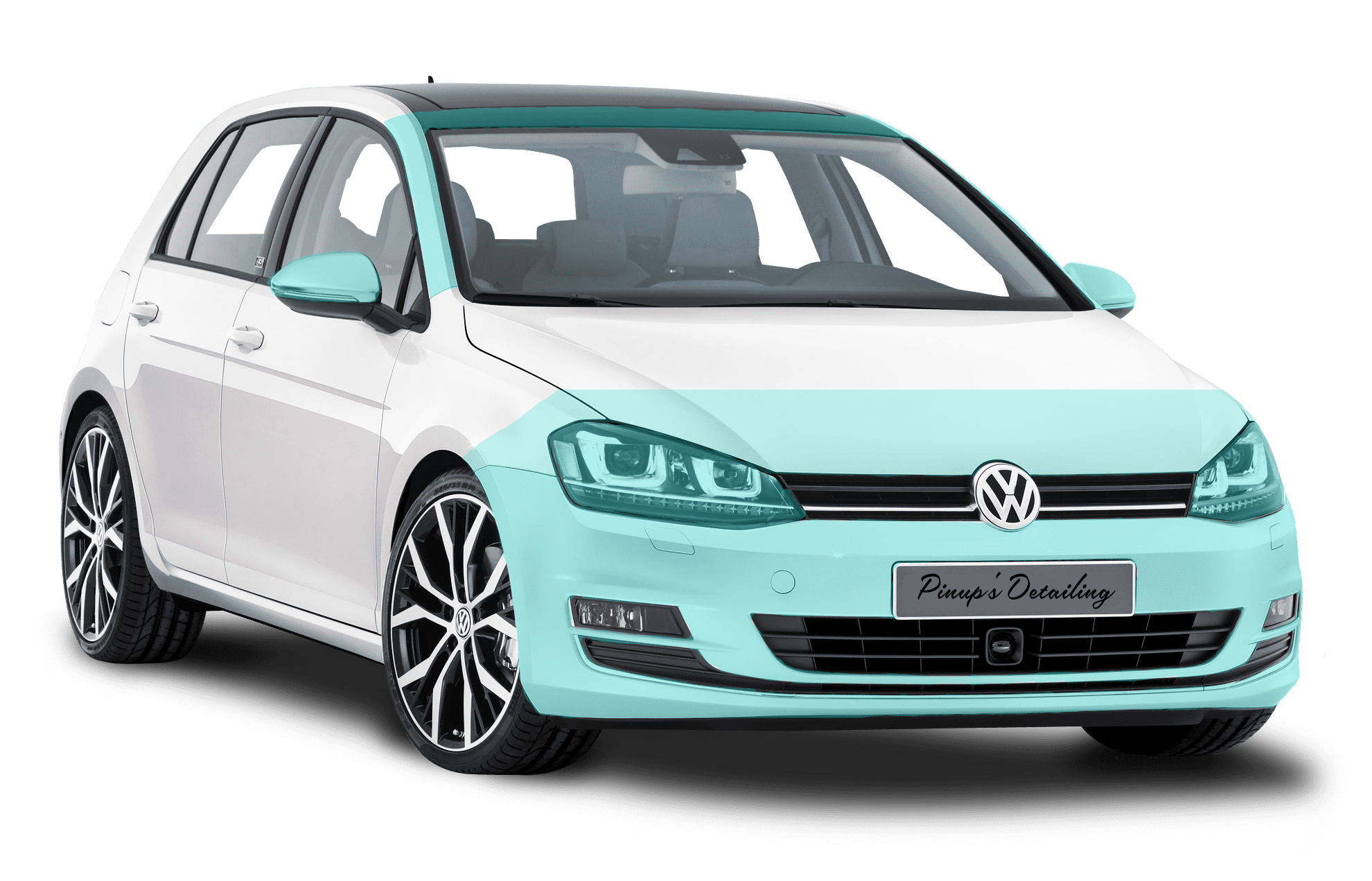 Highway Star
24" Hood · Fenders · Bumper · Mirrors · A-Pillars · Roof Line · Headlights · If Applicable: Grille Surround · Luggage Strip
Starting at $799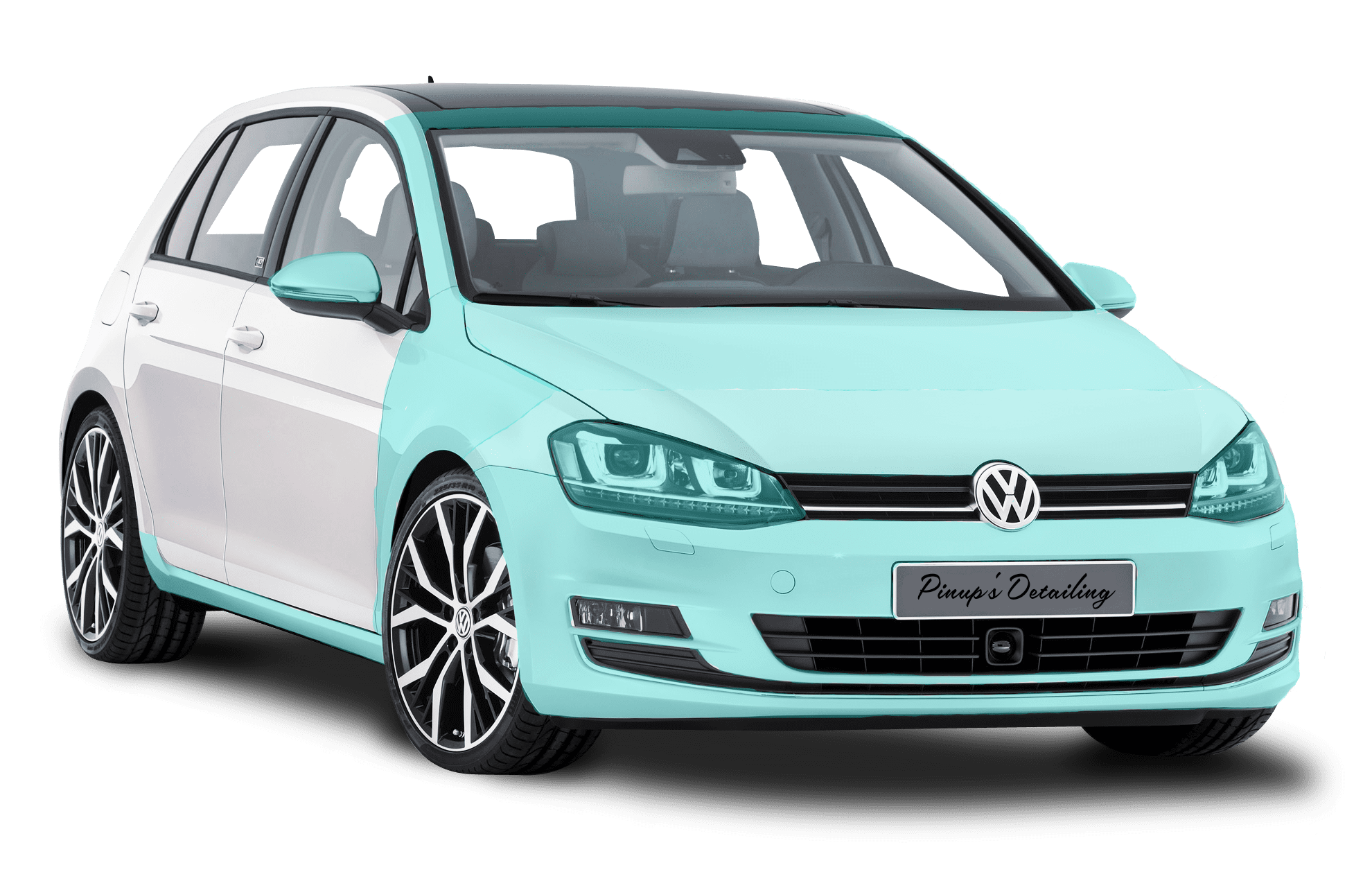 Track Pack
Full Hood · Full Fenders · Bumper · Mirrors · A-Pillars · Roof Line · Headlights · If Applicable: Grille Surround · Luggage Strip · Rocker Panels/Splash Guards
Starting at $1599
Additional options are available that may not be shown above. Please contact us for more information or to build a custom coverage package for your vehicle!
Paint Protection Film FAQ
What Does Paint Protection Film Do?
Paint Protection Film (PPF) is a sacrificial layer, or barrier, against physical and environmental damage. PPF is a clear film that offers the best protection available against rock chips, etching, staining, scratches, and other damages.
Rock chips are a massive issue in particular. Vehicle paint and clearcoat is becoming thinner and lower quality, while increasing in price every year. The price of a chipped or peppered surface repaint is huge compared to the price of protection from the beginning, under those circumstances. Furthermore, bugs are acidic, and can cause staining on clearcoat. In some cases the etching can be removed, however sometimes the clearcoat is too thin or the damage is too deep to remove.
Paint Protection Film prevents this staining/etching, namely making sure the paint and clearcoat are not affected. While PPF is by far the best protection available on the market presently, it is not invincible. That said, the film can be removed and majority of the time leaves a pristine, or easily repairable surface below!
What Is Self Healing PPF?
Self Healing PPF is the best product on the market! The benefits of these films include increased gloss and clarity, increased resistance to yellowing and staining, ceramic properties such as a hydrophobic surface, and best of all – self healing!
Self Healing PPF will heal out most defects, such as mild to moderate swirls and scratches. 
XPEL and PremiumShield Paint Protection Films are much easier to clean than bare paint, and retain a beautiful appearance for longer than uncoated competing films. In conclusion, all of these benefits mean less time and effort are required to keep your vehicle looking great!
PPF is quite easy to maintain. Ensuring to keep pressurized water at a minimum of 36 inches away from edges will reduce the risk of lifting or peeling. Using good quality car washing soaps and avoiding harsh chemicals will prolong the life of your film as well. Limiting exposure to UV rays/sunlight can also extend the life, as UV rays are the primary cause of PPF failure over time.
Cleaning off sap, bugs, and mud as soon as possible will help prevent staining. Prevent damage to the film's top coat by avoiding scrubbing or abrasives. Avoid the uses of colored waxes or pastes on the film. Finally, ensure any towels used on or near the film have been pre-washed and checked for color bleed before use.
Firstly, is important to know and remember – it is paint *protection* film, not paint *perfection* film. To emphasize, PPF is to protect while looking as great as possible, and no install by any person or shop is completely perfect.
Some edges may lift, however fortunately this can be remedied when caught early. Secondly, some areas may have a small amount of exposed surface with a kit install. In general, this is normal and to be expected.
Finally, we take every precaution to limit contamination getting under the film. That said, vehicles can have dirt in small areas which cannot be removed entirely.
Our film suppliers provide all certified installers with access to a large library of files and designs for nearly every vehicle on the market. These designs are uploaded to our computer, and cut with a plotter – a very large "printer" with a sharp blade that follows the exact measurements of that vehicle's cut file.
In fact, this is the most popular way PPF installers size and cut film! The files are highly accurate and provide great coverage. For custom or bulk installations, we use a sharp blade and "score" the film. We wrap all of our edges when possible or applicable, so where we cut is typically not directly on the paint.
Nevertheless, we may be required to cut over the surface to ensure a clean install, in which case our extensive training and experience comes into play, and as a result, this is done so safely!
We do not recommend application on coated surfaces. PPF is designed to be applied to clean, uncoated surfaces only. Ceramic coatings are designed to reject contaminants or objects trying to stick to them. Therefore should you wish to have film applied to a coated surface, no warranty is offered from either Pinup's Detailing or the manufacturer as the risk of lifting is extremely high!
We highly recommend having the coating removed prior to installing PPF. Unfortunately there are additional charges associated with this extra prep. This is to ensure the coating is removed so the film can adhere properly.
Please notify us of any possibility of a coating prior to booking your PPF appointment. It is advised to get in writing a letter from the dealership confirming they did not apply any coating or protection to the vehicle if your vehicle is new.
There are two warranties that come with your install – our in-house installation warranty, and the manufacturer warranty directly on the film itself.
Our installation warranty covers against installer error, such as lifting/peeling, for up to one year after installation. On the other hand, this does not cover lifting or peeling caused by pressure washers, physical damage, pulling or tampering with the film, or other non-installation issues. Typically, any installation issues happen within 30 days of when the product was applied, however we offer 1 year of coverage for your peace of mind.
XPEL and PremiumShield warranty covers film failure such as yellowing, delamination, hazing, cracking, or fading of the product with proper maintenance.
Please be advised that all failures or issues are subject to inspection and require immediate notification to the installer. The sooner we are notified, and the more thorough and honest your description of what occurred, the better we are able to remedy the situation. We are ultimately able to tell between installation issues and damage from outside factors. Generally speaking, installation issues are not common, however they can and do happen. In any event, we will stand behind our work and product and help in any way possible!
Ready To Make An Appointment?