Pinup's Detailing Edmonton
Top Choice For Interior & Exterior Vehicle Detailing In Edmonton, AB
When You Need Auto Detailing Services in Edmonton, We Are Here For You!
Trust the professionals when it comes to your auto detail needs. With years of experience, Pinup's Detailing Edmonton is your one stop shop!
We offer a variety of detailing services – from interior and exterior to paint protection and ceramic coating. Our motto is – you like it clean, we like it dirty…™ and we mean it! Bring your vehicle to our highly trained professionals to experience a truly incredible service, no matter if it is the family minivan, the work truck, or your prized show car. We do them all! When your vehicle enters the Pinup's shop, all that matters is your satisfaction and achieving high quality results – every time.
Not sure what our process entails? Our open door policy is great when you want to be in the know! Ask questions, request updates, get access to vehicle reports, and more with our truly unique approach to auto detailing. We want you to love your vehicle for years to come, and we will do everything we can to get it there! 

Our Edmonton Auto Detailing Shop
Our shop is clearly laid out so we focus on your vehicle the entire service. With a huge selection of products in our toolbox, we have the right combination and methods for anything thrown our way. In the shop you'll find a variety of equipment – including a hoist for wheels-off and undercarriage detailing, as well as paint protection film installation. Along the wall, you'll see nearly a dozen polishers, and each has a different use! Our pressure washer is high GPM and low PSI to ensure a thorough clean without the risk of damage from aggressive, oversized industrial machines. Pair these tools with our extensive chemicals and products, and your vehicle's exterior will be shining and smiling!
For our interior work, we use a top of the line Ninja professional extractor machine on all shampoo services. Our deluxe steamer, along with a secret mix of chemicals, ensure your vehicle's carpet and upholstery is left clean and smelling great! All shampoo and steam clean packages get a high velocity air dry during the service, to ensure you don't get wet pants on the way home! Furthermore, we have a few dozen different types of brushes and tools to reach every crevice during an interior detail to make sure every nook and cranny gets detailed to the best standards.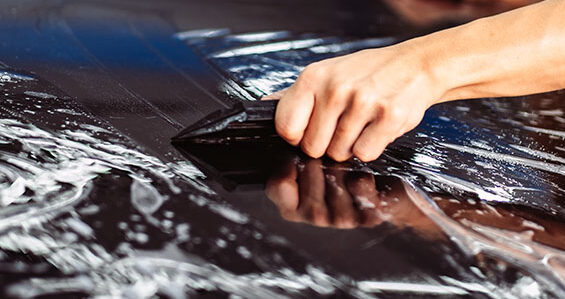 Paint Protection Film Edmonton
Our paint protection films are designed to provide you with the peace of mind you need on the open road, keeping your vehicle's surfaces safe from things like rocks, oils, bug acids, bird droppings, and stopping paint chips before they start.
Heat Activated Self-Healing Topcoat
Constructed from an elastomeric polyurethane, our films will self-heal light scratches & swirl marks with a light heat application to the film's surface.
Non-Yellowing
Our proprietary film formulations will not yellow from UV exposure, ensuring protected areas are nearly invisible, without the unsightly color over time.
Discoloration & Stain Resistant
Don't worry about specs, spots, or splotches from contaminants! Our films are stain resistant & will maintain clarity under the harshest conditions.
Prevents Wear & Tear
Stop rock chips, nicks & scratches in the paint, and keep your vehicle looking as good as the day it rolled off the lot with our 8 mil thick film.
Edge Seal Technology
Lifting & delamination are a thing of the past. Our signature Edge Seal Technology ensures film stays stuck & keeps surfaces protected from contaminants.
Exterior Detailing
Revitalize and restore your vehicle's exterior with one of our detailing packages
View Exterior
Interior Detailing
Return to a clean and comfortable condition with our interior detailing packages
View Interior
Ceramic Coating
Protect your vehicle's surfaces with one of our top of the line ceramic, graphene, and nano coatings. Self Healing options also available
View Coatings
Auto Detailing Services Edmonton
Correction, Protection, Customization
Revitalize and freshen up your vehicle's interior with one of our interior detailing packages!
From maintenance details to extensive corrective packages, we can make your vehicle look like new!
Ceramic Coatings for both interior and exterior can help ensure your vehicle stays looking great for years to come!
Resist rock chips and keep the most vulnerable areas on your vehicle protected from damage!
Have you purchased a new vehicle? Click here!
Contact Pinup's Detailing Edmonton to learn more!